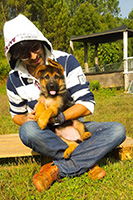 Currently Hugo is a Senior Photography Tutor for the Further Learning Group. With students based worldwide, Hugo strives to pass his knowledge, passion and expertise to Photography students. He has always taken pictures with Canon cameras, even in analogic photography. Now, he shoots only in digital and uses the Canon EOS 5D MKIV equipped with an EF L 17-40 f4 USM, EF L 70-200 f2.8 IS II USM and a Sigma 50mm f1.4 ART lenses.
Since a very early age, Hugo developed a passion for photography, and credits his grandfather as his greatest influence. Over the last 15 years, he has continued to upskill by completing photography courses and is a member of the staff of "Galitos Club Photography and Cinema Section", where he gives several photography courses, workshops and open days.
Over the last 15 years Hugo has taken part in photography contests, and has always won a firm position in the final expositions categories… This has led to his work being published in the majority of the Portuguese photographic magazines.
He likes to photograph people and landscapes (most of them long exposed and at night). However, his biggest passion is studio photography because he can "control the light at 100% and there are always new techniques to learn", therefore, he decided to set up a photography studio where he does a great part of his work.
In 2007 with the help of his great friend, the photographer Rui Vale de Sousa, he started his journey in Micro Stock Photography and currently has over 35,000 images in high demand, selling across 10 different web sites.
Hugo Felix, holds a telecommunications & electrical master degree and was born in Aveiro, Portugal.