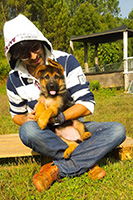 Hugo Félix, who is an electrical and telecommunications master engineer, was born in Aveiro, Portugal. Since very early he developed the passion for photography, much due to his grandfather's influence. He has taken 2 photography courses, one of initiation to camera and the other of dark room developing, under the surveillance of Pedro Sottomayor and now Hugo's a member of the staff of "Secção de Fotografia e Cinema do Clube dos Galitos", where he gives some photography courses and open days.

Over the years Hugo has taken part in many photography contests, with some very good results, always took part in the final expositions and saw his work published in the majority of the Portuguese photographic magazines.
He likes to photograph people and landscapes (most of them long exposed and at night). However, his biggest passion is studio photography because he can "control the light at 100% and there are always new techniques to learn" and with the help of some of his friends he set up a small studio, where he does all of his work. Late in 2007 and by the hand of his best friend, Rui Vale de Sousa, he started his journey in Micro Stock Photography and actually has almost 20000 images selling around the web in 10 different sites.
Currently Hugo is finishing his PhD in Electrical Engineering and he is a full time microstock photographer. Hugo has always took pictures with Canon cameras, even in analogic photography. Now, he shoots only in digital and uses a Canon EOS 5D MKIII equipped with an EF L 17-40 f4 USM and an EF L 24-70 f2.8 USM lenses.